(In)Visibles i (O)Cultes ('Invisible and Hidden / Visible and Learned') brings to the fore 24 female scientists from all eras and all corners of the world.
(In)Visibles i (O)Cultes is a temporary exhibition focusing on 24 female scientists who, from Ancient Egypt to 21st-century Great Britain, have been silenced, relegated or directly erased from the history of science because of their gender. This exhibition, produced by the Natural Science Museum of Barcelona and curated by Mireia Alcaine, can be seen at the free exhibition area Ciènciaimés until May 2022.
The earliest known female physician in history, Peseshet (Egypt, 2,400 BC), the astronomer Aglaonice (Greece, 200 BC) and the botanist Blanca Catalana de Ocón (Spain, 1860-1904), among many others, have had to wait many years and even centuries to regain their voice thanks to historical revisionism from a gender perspective that began in the second half of the 20th century and has become unrelenting in the 21st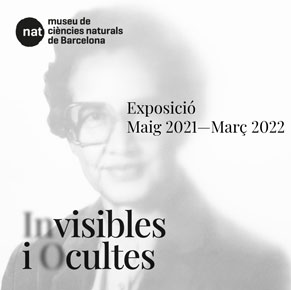 To combat this discrimination, 2016 saw the creation of the International Day of Women and Girls in Science (11 February) to commemorate and recognise the achievements of all women who have helped to advance science and technology.
For reasons of space, this exhibition has not been able to include all female scientists who have been overlooked. There are many more and they all need to be brought to light, acknowledged, named and returned to their right place in the history of science.