The Museum's collections include more than four million specimens. They include plants, lichens, fungi, animals, sounds, fossils, minerals and rocks collected and preserved for more than three centuries, thanks to the efforts of naturalists and collectors, institutions and private individuals, as well as the constant work of scientists to achieve a better understanding of biological reality and geological history. They are of particular scientific importance and are essential for taxonomic and systematic research. They are reference collections that bring together a high diversity of species from Catalonia and the rest of the world, and contain many type specimens -those that have been used to describe new taxa. The major consultation works on Catalan flora, fauna and geology are based essentially on the materials conserved in these collections.
One of these collections is of particular historical importance, with very old specimens dating from the 17th to the 19th centuries, the Salvador Natural History Cabinet, the oldest in Catalonia, conserved and put on display at the Botanical Institute of Barcelona. The legacy of Francesc Martorell was the seed for the creation of the Natural Science Museum of Barcelona.

The collection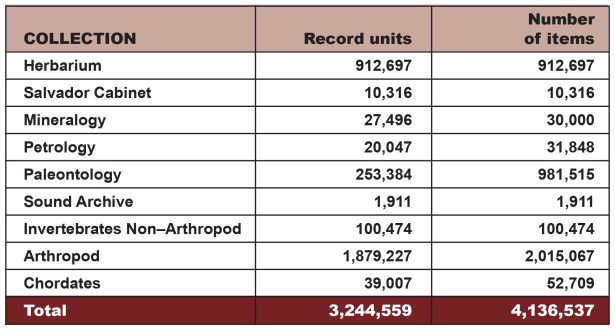 What is documented are the registry units (specimens of batches of specimens).  A batch is a set of animals, plants or fossils of the same species, collected by the same person, on the same day and in the same place. What is conserved is the number of items. All items require appropriate revision and conservation.
Collections Report 2022 (in Catalan, PDF 2 Mb)
Data collection for all collection departments 2022 (in Catalan, PDF 2 Mb)