The Natural Science Museum of Barcelona offers you a lot of activities to enjoy without leaving the city during the Christmas holidays, from December 20 to January 11, 2020:
Exhibition Monkeys. A primate story
Discover how we are related to every other primate and explore how each species has adapted to survive in a wide diversity of habitats. Find out how primates eat, move, communicate and survive in an ever-changing world.
The exhibition features 60 spectacular new taxidermy specimens created by National Museums Scotland specialists, alongside a host of interactives, film, models and photography.
Visitors can discover how different primates move and communicate, how they've developed tools to get hold of food and their complex social systems. It also examines the relationship between humans and primates, including the ways in which many species are threatened with extinction through the impact of habitat loss and hunting.
More information: #MicosMCNB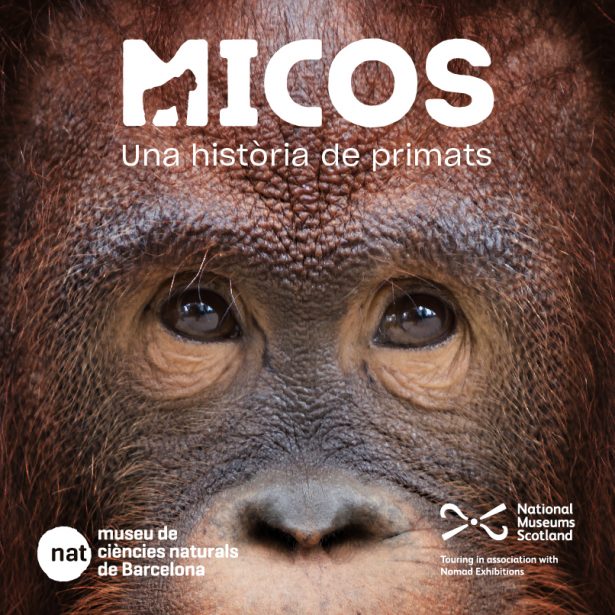 Museum Quiz familiar
This activity, led by an entertaining quiz master, consists of a question and answer game where families, playing as teams, are tested on their knowledge of primates.
The Botanical Gardens (11.30 am Saturday 28 December) and the Maritime Museum (5.30 pm Saturday 4 January) will host variants of this activity reflecting the themes of each of those centres.
Close to nature – a monkey special
A space for observing nature and bringing us closer to the world of monkeys using the naked eye and optical instruments. Observations will inspire questions and lead us to reflect on our relationship with primates.
45-minute visits, as follows:
11 am to 2 pm
December: Saturday 21, Tuesday 24, Friday 27, Saturday 28, Tuesday 31
January: Thursday 2, Friday 3, Saturday 4, Sunday 5, Tuesday 7
11 am to 2 pm & 4 pm to 7 pm
December: Sunday 22, Sunday 29
All ages from 7 years old
Free entry. Please note that you must book at the ticket office.
JOJÓ, the story of an orangutan
A visual poetry performance by the Borja Ytuquepintas Company that combines sand art, live music and large-format puppets to tell the story of the first orangutan rescued from captivity, leading to the launch of an international Animal Rescue NGO project.
12.00 midday Sunday 19 January
Family event, ages from 5 years old
Duration 50 minutes
Free entry
This show is part of activities to present the 14th Cycle of City Park, Beach and River Activities organized in collaboration with Barcelona Metropolitan Area.
More information: https://museuciencies.cat/visitans/activitats-per/tots-els-publics/